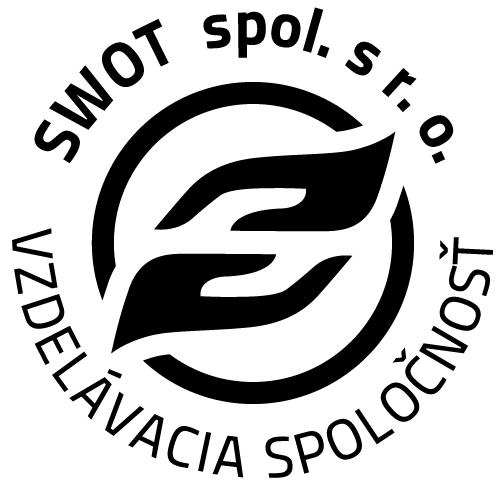 Partnership organization, Slovakia
Educational company SWOT Ltd. was founded on January 17, 2005 and has been active in adult education since then.
During its lifetime, the company trained approximately 12,500 graduates from private enterprise staff, labor offices, municipalities, and the public. To provide a wide range of educational activities, 328 lecturers from all areas of education are available in our database.
The project "Business Counseling" approved by the Ministry of Labor, Social Affairs and the Family of the Slovak Republic was implemented by SWOT from July 2006 to September 2007. This project was financed mainly from the European Social Fund, from the state budget of the Slovak Republic and from SWOT . In November 2006, three counseling centers were officially set up to provide information on tax and commercial and civil law matters, on the obligations of SSGIs to the state and public institutions. Consultative clients also have free access to the library and the Internet.
A core part of our portfolio of educational activities is corporate education. In our offer we have training programs such as: Managerial skills, Leadership, Business etiquette, Coaching, Presentation skills, Time management, Teambuilding and management, Conflict, Assertiveness, Consultation management, Effective communication, Motivation, Business skills, Negotiation, Business Plan, Project Management, Work with Economic Software, IT Skills, Language Learning - English, German, French, Italian, Spanish, Russian and Slovak.
For companies focusing on professional professions, he is also trained in educational activities such as: Mason, construction worker, Painter, Confectioner, Baker, Waiter, Cook, Miller, Plumber, Operator of the automotive industry, Mechanical industry, Mechatronics, CNC Machine Operator, Warehouse, Logistics Center Worker, Gardener, Electromechanician, Caretaker, Social Worker, Network Administrator, Auxiliary Worker in Food Production, Poultry Processor, Delicater, Processor of Fruit and Vegetables, Operator of Fruit and Vegetable Processing & , Master in Food Production, Farmer, Farmer, Auxiliary in Plant Production, Agriculture in Agriculture and many others.
Our clients include large businesses, wide-ranging organizations, small and medium-sized businesses, and the general public.
In cooperation with the Ministry of Justice, the language training of ministry staff took place between 2013 and 2015. Selected executives were trained in English, EU English as well as ProfessionalEnglish in the field of public administration.
Training of employees of the Office of the Government of the Slovak Republic in the field of foreign languages, both individually and in groups, took place in 2013-2014. The subjects were English, German and French for both beginners and advanced as well as English terminology.
Nationwide project "Center for Social Dialogue" funded by EU funds. The project was carried out in 2014 in cooperation with the Confederation of Trade Unions, the Association of Employers \\\'Associations and Associations, the Employers\\\' Union and the Association of Towns and Municipalities of Slovakia. We have trained more than 1000 participants throughout Slovakia in accredited educational activities: Collective Bargaining, Medial Skills, Mentoring of Social Work, Development of Social Personality and Methodological Competence, Socially Responsible Business, Social and Economic Development, Social Dialogue and Public Relations.
The company has 5 own employees and more than one hundred external partners. At the same time, we have more than 300 external lecturers available if needed.