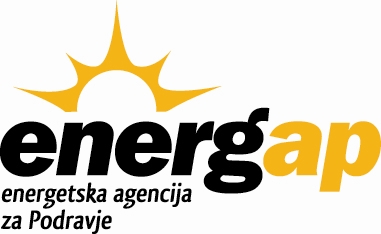 Partnership organization, Slovenia
ENERGAP is local energy agency. It was established in June 2006 and covers the area of Municipality of Maribor and 25 smaller municipalities in Podravje region together around 200.000 inhabitants. It supports the introduction of good energy management practices, advocates the concept of sustainability, provides information and guidance and offers a number of other local services based on specific local energy needs. It operates impartially on both energy demand and supply issues and reflects the local situations, economic and social circumstances and the geographical size of the relevant local area. It provides:
Information, advice and training on energy management issues
Support for the implementation of local/regional energy plans
Energy audits of public and private buildings, building energy certificates
Raising awareness on energy efficiency, renewable energy sources and transport issues
Search for energy-management incentive funds at national and international level
It gives wide-ranging advice on all aspects of energy, as well as technical assistance in the design of energy projects. It covers manly building sector and some areas in industrial processes and farming. The Energap acts as a contact point for the relations with European networks and institutions as well as an intermediary to local, regional and national players. One of its major tasks is also the promotion of the use of renewable energy sources especially in public sector and implementation of energy contacting system for public and private institutions. Energap won Managenergy local action award in 2010 as one of the three best practices for central management energy system for Maribor, the second biggest in Slovenia and the same project was nominated as the best energy efficient project in Slovenia for 2010. Energap has also the function of energy manager for Municipality of Maribor and other local communities in order to carry out all activities and to achieve the goals set in the local energy concepts.